I stumbled onto this post a few days ago (honestly, I don't remember where I first saw it) and marked it to read later. After finally getting around to reading it this morning, I felt like I had to share.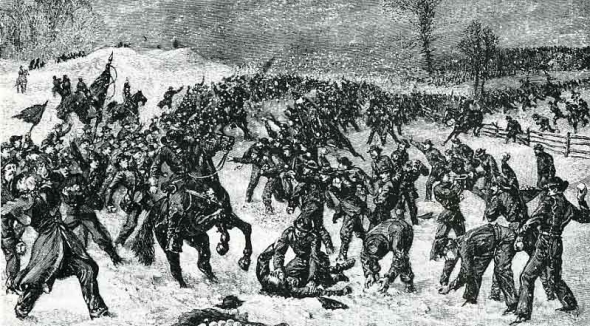 Can you imagine the sight of full Confederate brigades, their pent-up energy from months spent in winter quarters, unleashed on each other in the form of a snowball fight? From the description in the article, they were pretty serious about it, too:
The charge was sounded by our buglers, and the brigadiers and colonels gallantly led on their respective commands. When the contending columns met, the shock was terrible – the air was filled with whizzing snowballs, and above the confusion rung out on the clear cold air the shouts of the combatants. Here and there might be seen some unlucky hero placed hors du combat, with a red eye or a bloody nose.
It must have been incredible to witness. You should most definitely go read the full article.