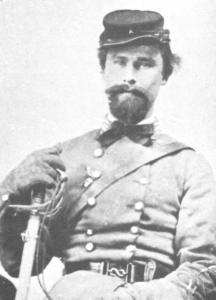 Near the grave of William Goldsborough, lies a junior officer from the 1st MD battalion who was killed on the eastern slopes of Culp's Hill on July 3, 1863 – Capt. William H. Murray.
Murray was a well-respected man among the Confederate Marylanders. An original member of the old 1st MD Infantry regiment, he stuck around in Virginia when that unit disbanded – unable either for fear of being caught, or out of a sense of duty to the Confederacy, to return home to Maryland. It was Capt. Murray who got together enough men to form the first company of what was to become a brand new Maryland regiment, but only ended up as the 1st MD battalion (as they couldn't get together enough men to form a full regiment). His company became Company A in the new battalion, and he was elected Captain of it. This also made him the senior Captain in the battalion, and every account I've read talks about what a fine soldier he was – William Goldsborough writes glowingly about him in his book.
At Gettysburg, he is still the commander of Co. A, but on the morning of July 3, he has been elevated to second-in-command after Lt. Col. Herbert's wounding the night before. When asked to lead his men in a very ill-advised assault up Culp's Hill, he goes along the line, shaking hands with every man saying "Goodbye, it is not likely that we shall meet again." Even General Steuart thought the attack was a suicide mission, but Capt. Murray followed his orders and did his duty. He was soon shot down, mortally wounded near the Union breastworks. Before noon that day, the 24-year old Captain would lie dead on the field.
His grave is located in the Confederate Hill section of Loudon Park Cemetery, very prominently marked by a tall obelisk: