I've been waiting for months to post about this, but now that Christmas is over, I finally can.
Back in February, I was doing a lot of research about my great-great-great grandfather, George R. Skillman and his career as a baker. During one of my many Google searches during that time, I stumbled on My Country Treasures – an antique shop in Preston, MD that had one of the Skillman Universal Steam Bakery's display tins. This tin would have been used as a display in a grocery store that carried Skillman Bakery products – most likely crackers.
I had to get this piece and make sure it stayed in the family. I also thought that it would make a great gift for my father, since he shares our ancestor's name and since he sparked my interest in genealogy and history in the first place.
Finally, the opportunity arose when my friend John invited me to stay at his family's beach house in Delaware one weekend. I planned to stop in Preston on the way home, and if the tin hadn't been sold, to split the cost with my brother. Luckily, it was still there and I immediately snatched it up!
Waiting out the months until Christmas was hard, but I'm glad that we did. My dad's reaction when he figured out what we had given him was worth it.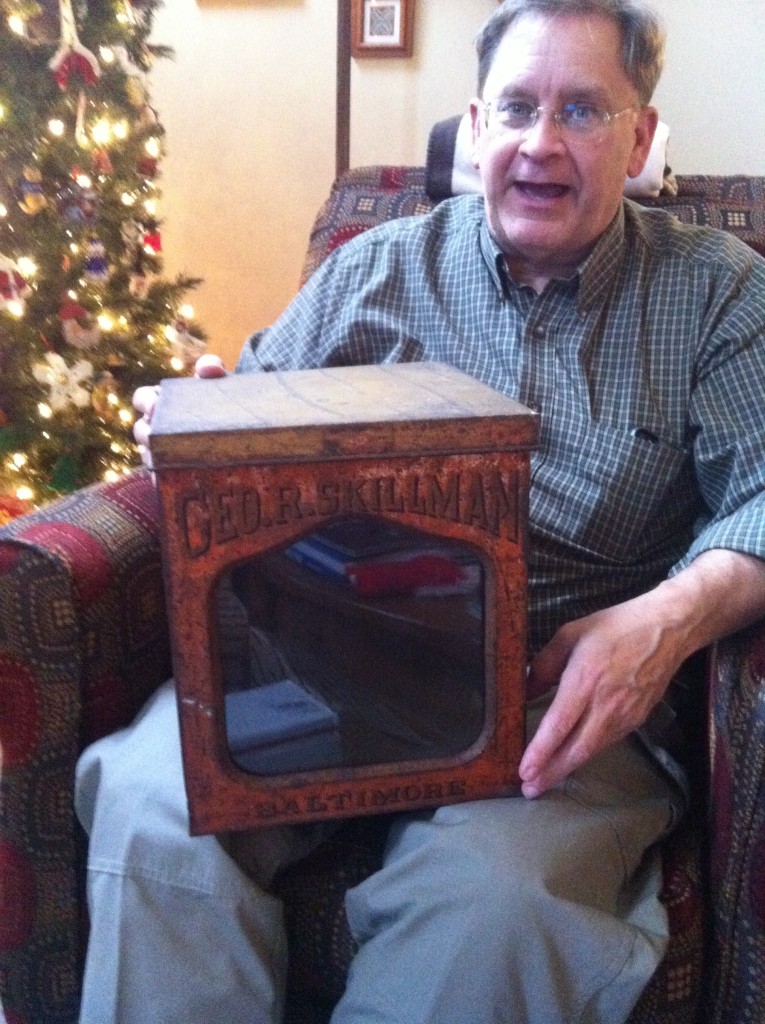 The side of the tin advertises the "Geo. R. Skillman Universal Steam Bakery". As far as I can tell, this name was used for his business from 1887 until as late as 1900, so this "new" family heirloom is perhaps 127 years old.
The stories that we've been able to find about George are very nice to have. Newspaper articles I've discovered give a sense of the reality of our family history, too. But having an actual, tangible object from your ancestor's past is just beyond words.
I'm so glad that everything came together to keep this history alive for us.