Battlefield Visits: Major Fights in North Carolina
A few years ago, I traveled to the Raleigh, NC area for a work conference. Of course, I wanted to check out some of the local historical sites in my downtime. There was plenty to see!
---
Battle of Averasboro – Civil War Battlefield #40
I got up early on Sunday morning to start my "off" day, and was able to get on the field at the Battle of Averasboro by 8:40am. Though it's only a mile or two west of I-95, it really feels like you're out in the country. My guess is that not much has changed since 1865.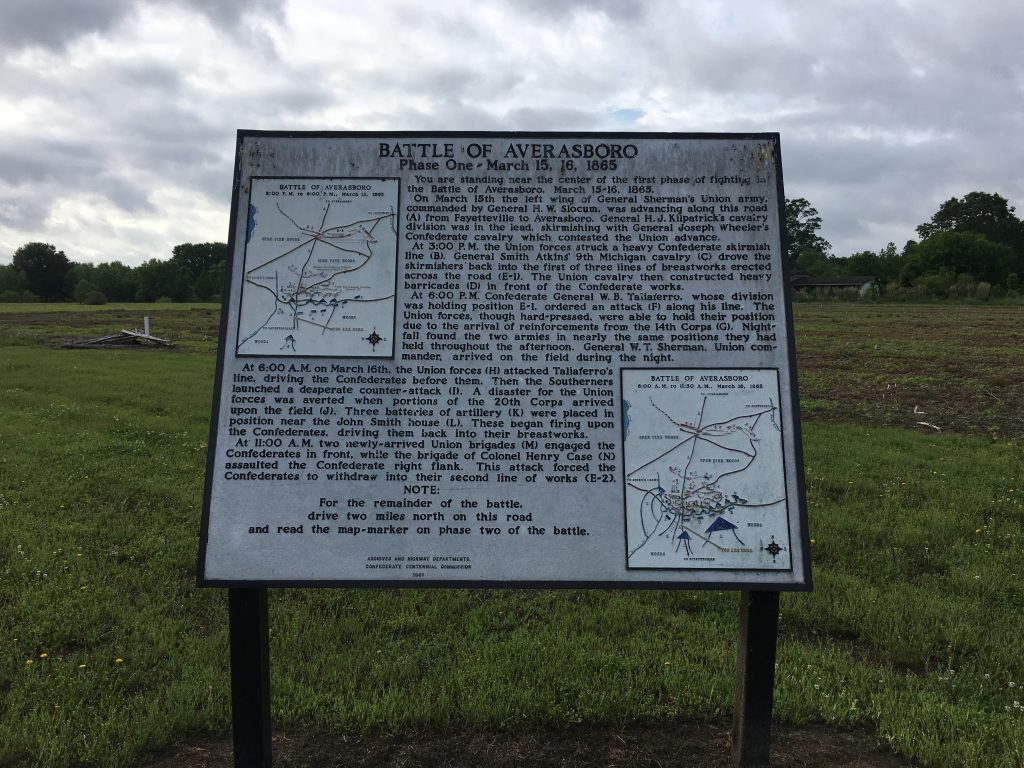 The field is privately owned, but definitely well cared-for, with a small museum located at the northern end. Several signs make it clear that relic hunting is forbidden and outline other things that the caretakers have in place – including video surveillance.
There are numerous markers and a few monuments, but they appear to be from different eras, and thus each has a slightly different way of explaining the action to visitors. For one thing, different markers seem to break the battle into a different number of stages, so I can see how it could be confusing to keep track of what all is going on for a novice. As it turns out, the action revolves around a pretty straight-forward defense-in-depth by the Confederates.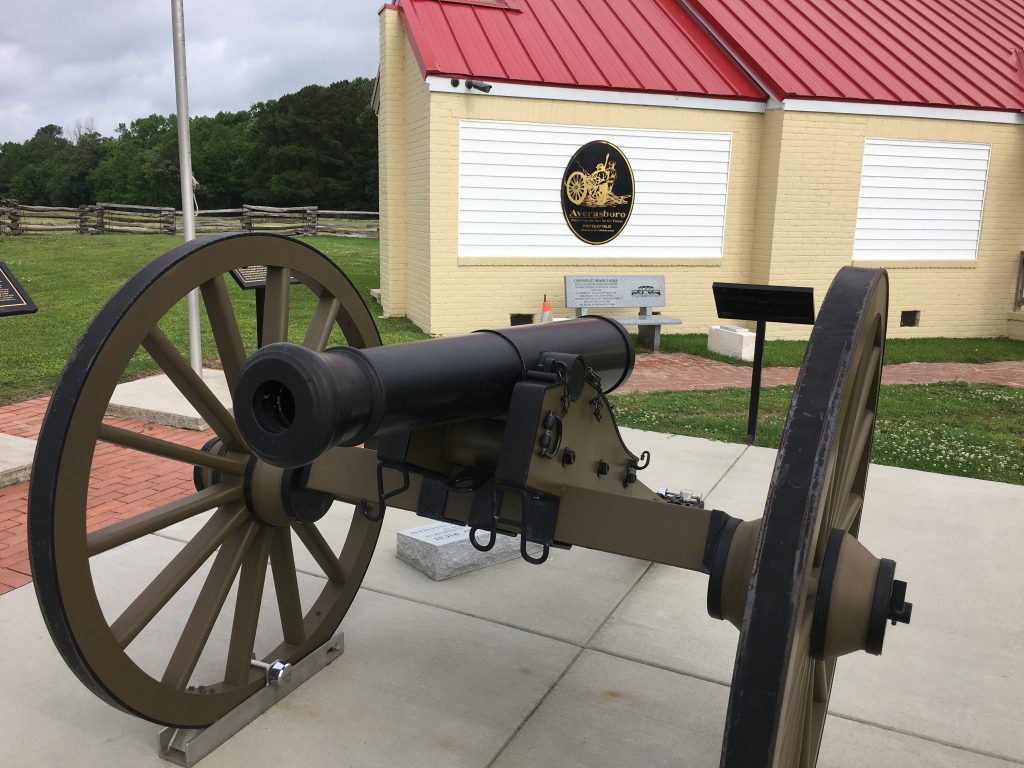 The visitors center was closed on the early Sunday morning that I visited, so I can't tell you any impressions of it, other than to say that they have a fake artillery piece out front. Hey – at least it's something. The other thing I took away as I drove through the field was the complete lack of distinct terrain features. Any elevation changes that exist are minuscule. Just about the only factor in the battle was the Cape Fear River that anchored the Confederate left.
On to the next site!
---
Battle of Bentonville – Civil War Battlefield #41
This was the main event. The Battle of Bentonville was the largest battle to ever take place in North Carolina, and was the culmination of Sherman's march through the south, and Johnston's attempt at defense. For me personally, this was the first battlefield I had ever visited where General Sherman had been involved. Pretty crazy to think about.
The State of North Carolina owns several pieces of the battlefield (though in many cases just enough to have a pull-off with a few wayside markers at a tour route stop) and operates those as the Bentonville Battlefield State Historic Site. Most of the field is still privately held, with modern houses occupying the bulk of that area. The spots that are preserved are quite nice, though.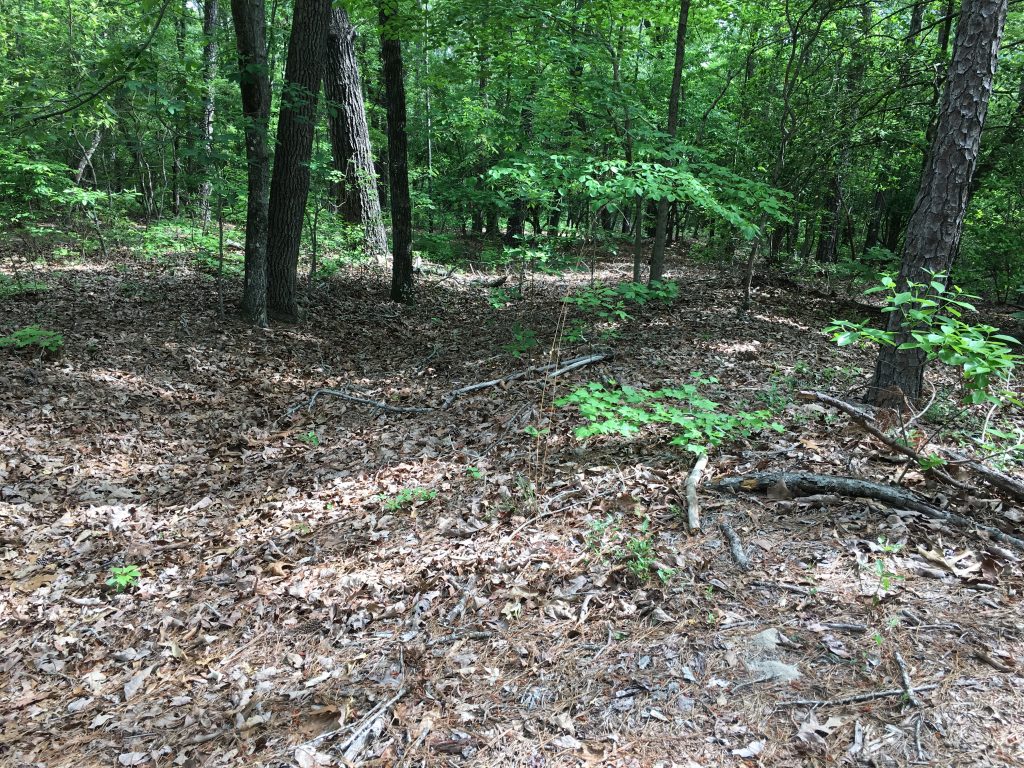 There are also numerous wayside markers that do a great job of explaining the battle action, and even a few monuments – including one of the standard Texas ones. I was able to pick up a copy of the driving tour brochure before I came, which was handy because this was another site where the visitors center was completely closed down on a Sunday morning. On the plus side, the driving tour comes with a phone-in audio narration component that really adds another dimension to the visit. All of these factors mean that you can get a very complete experience in only a couple of hours.
Like Averasboro, the terrain here was VERY flat – only a few small ravines and creek beds provided some cover for battlelines – and you can see that the lines seemed to form along them. Ground that is not composed of sand is swamp. It must have been miserable to fight here. I recall one of the waysides mentioning that there was significant difficulty in burying the dead – whenever they dug more than a foot or two down, the hole would fill with water.
---
North Carolina State Capitol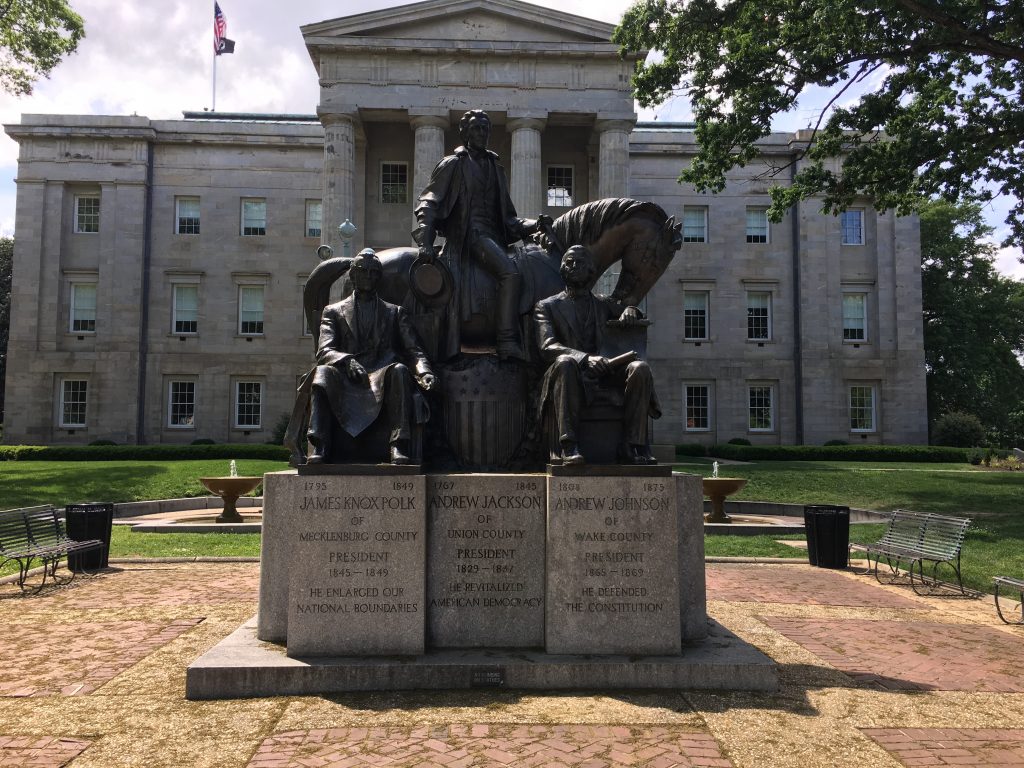 After checking in for my conference, I decided to walk around downtown Raleigh a little. The grounds of the North Carolina State Capitol had a few interesting monuments, and some real artillery in the form of Cyrus Alger and Co. siege mortars.
One of my favorites was a monument to US Presidents from North Carolina which included Andrew Johnson (for a Civil War connection), James K. Polk, and the debatable Andrew Jackson (who may have actually been born in South Carolina). There was also a "Lost Cause" era monument "To Our Confederate Dead" – perhaps not long for this world.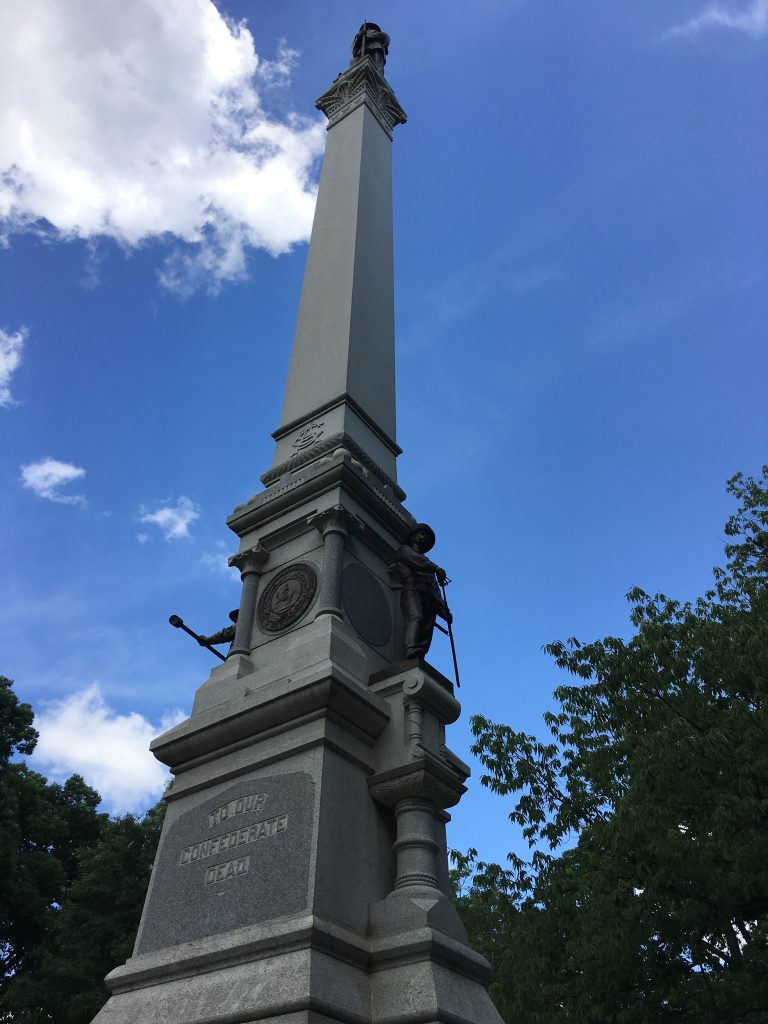 ---
Oakwood Cemetery
One place in downtown Raleigh that I knew I wanted to see was the Oakwood Cemetery – final resting place of Colonel Henry King Burgwyn, who was killed at Gettysburg leading the 26th NC Infantry in their famous attack against the 24th MI. Known as "The Boy Colonel", Burgwyn was only 21 years old at the time of his death.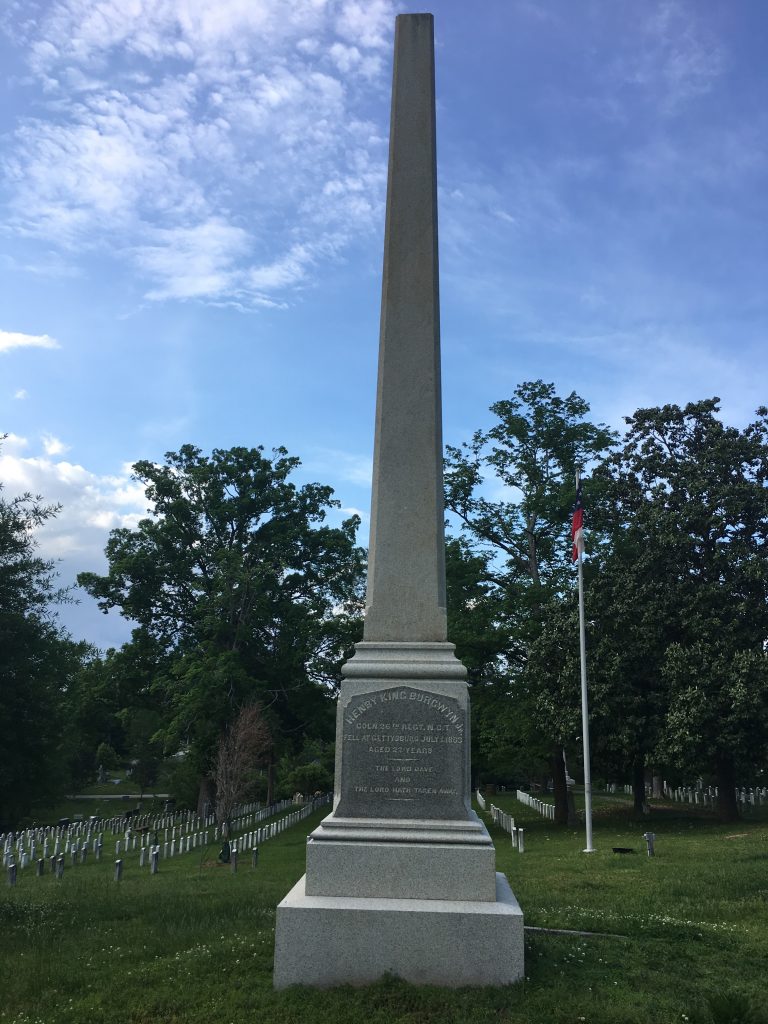 Like other prominent southern cemeteries, Oakwood has a large mass grave of Gettysburg dead, removed to what was assumed to be their home State from where they had fallen on the battlefield – probably in the 1870s. The design of the marker for this section of the cemetery mirrors the North Carolina monument present at Gettysburg today.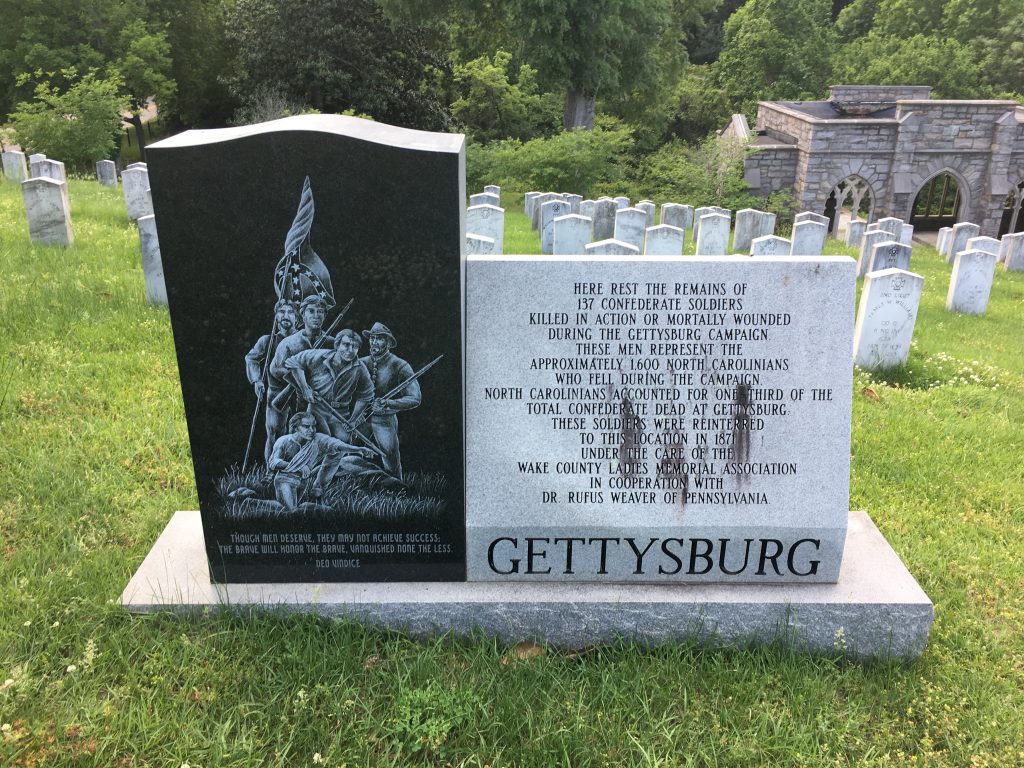 Though I only spent a few hours poking around the Raleigh area (and beyond), they were thoroughly satisfying. Hopefully I'll be able to make a return trip some day.