Battlefield Visits: Winchester Area
Three years ago today, I took a day trip to Winchester, Virginia in order to check out some of the battlefields. My oldest son went along as well. It was the first trip there for both of us, and it remains a wonderful memory.
We had a great lunch, got to explore the local library, and my son enjoyed burning off some energy at the Shenandoah Valley Discovery Museum. There is certainly plenty to do in Winchester, but we all know what drove me there, so why not jump in?
---
First Battle of Winchester – Civil War Battlefield #28
This was a major victory for the Confederates during Thomas J. "Stonewall" Jackson's famous Valley Campaign. Not much of the battlefield seems to remain, though. There is a marker near Handley High School, and another cluster farther south along the old Valley Turnpike (present-day Route 11). The landscape has changed considerably, with a lot of construction having taken place in the last 150 years.
---
First and Second Battles of Kernstown – Civil War Battlefield #29, 30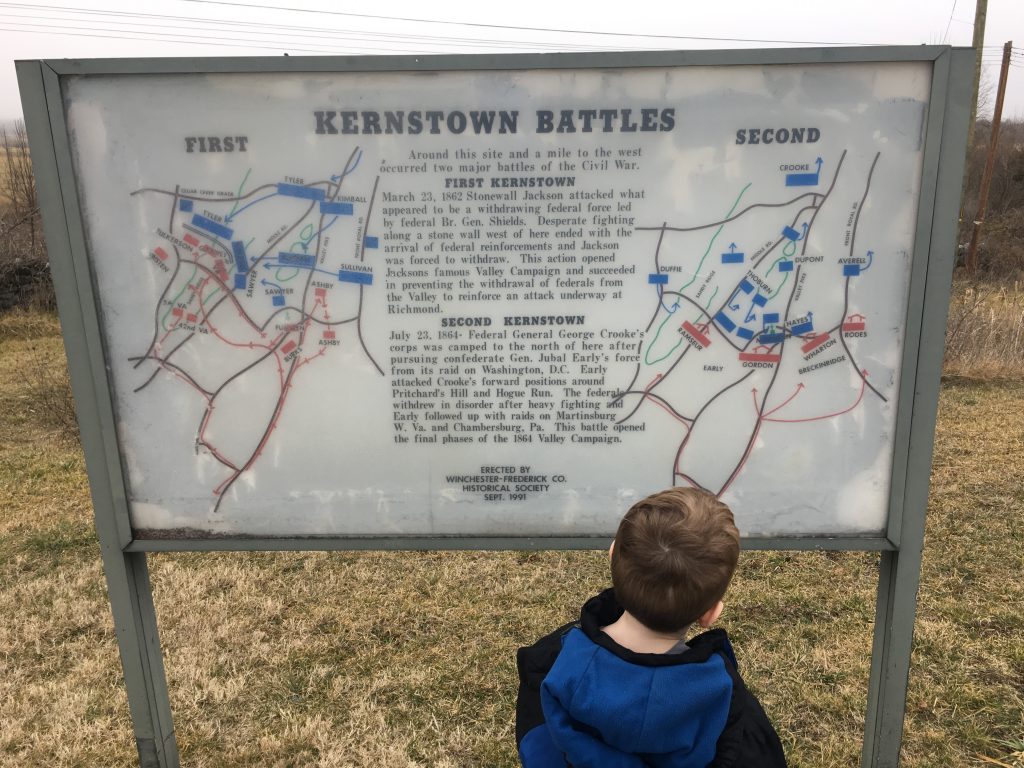 There is a battlefield park that incorporates a large chunk of the field, but it is only open on the weekends during May through October, so it was closed while we were there.
Luckily, the more interesting part of the field to me – the spot where Richard Brooke Garnett and the Stonewall Brigade fought behind a wall at First Kernstown – is on the other side of Route 37, south of Cedar Creek Grade at Rose Hill Farm Park. It was cool to be there and see the terrain, even if the wall there is a reproduction. My son had had enough hiking at that point, so we didn't go back in the woods to look for the remains of the original wall.
---
Second Battle of Winchester – Civil War Battlefield #31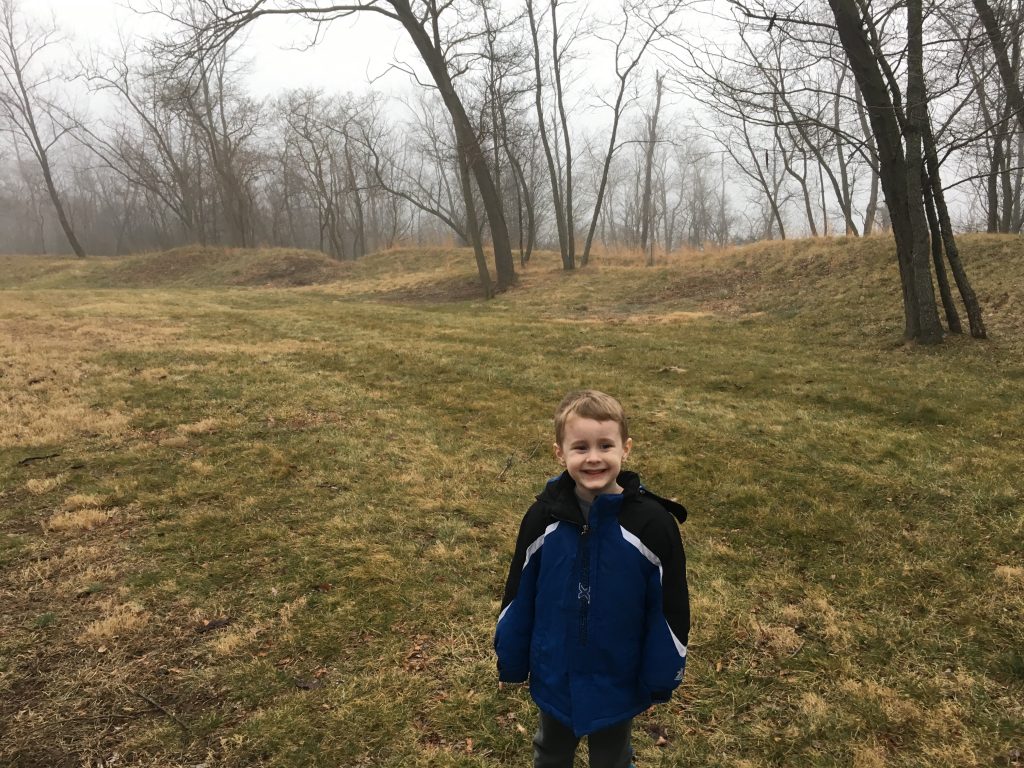 The Second Battle of Winchester took place on the road to Gettysburg. A Confederate corps under the command of Richard Ewell attacked and completely overwhelmed the Union garrison in town under Robert Milroy. Milroy made the decision to try to sneak out of town overnight, and much of his force was captured in the process. But we'll talk about that later.
I was thrilled to learn that the Star Fort – central to Milroy's defenses – still exists! We got to explore it a little, and I even got some photos of the newly-installed (at the time) markers so they could be included in the Historical Marker Database. Probably the coolest part of the trip for me.
---
Battle of Rutherford's Farm – Civil War Battlefield #33
The field of the Battle of Rutherford's Farm has been completely changed. It is now a shopping center north of Winchester. At least there is a small cluster of markers in the parking lot to tell visitors of the area's importance during the 1864 Shenandoah Valley Campaign.
---
Skirmish at Stephenson's Depot
While not an "official" battle, I tend to think of the Battle of Stephenson's Depot as being a separate action from the Second Battle of Winchester. This is the spot where about half of Milroy's fleeing Union command was captured by Confederate forces under Edward "Allegheny" Johnson. There are a few markers near where the railroad depot was (though when we visited, one was damaged to the point of being missing) and even a monument close by.
---
Third Battle of Winchester – Civil War Battlefield #32
Third Winchester was the bloodiest battle that took place in the Shenandoah Valley area, but you'd never know it if you visited the field today. I parked in the lot right off of Redbud Road and took a hike through woods, across fields, and over Redbud Run to the famed Middle Field. It made for a very pleasant 3-mile round trip. A monument to Battle's Alabamians had just recently been erected on the field during my last visit, so that was pretty cool to see. By far though, my favorite part was this lovely tree-lined path just before the Middle Field.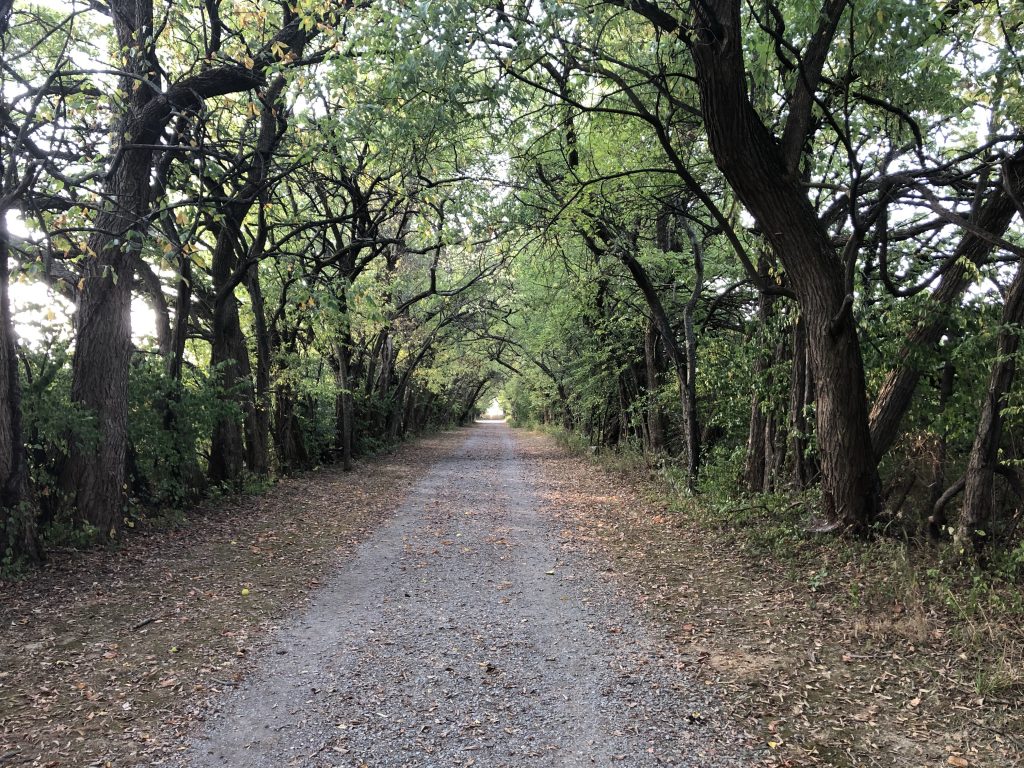 All-in-all, it was a great trip. A model for many more I'd take in the years ahead.